Fire Department Communications Solutions
Integrated voice, video, and data solutions for mission-critical operations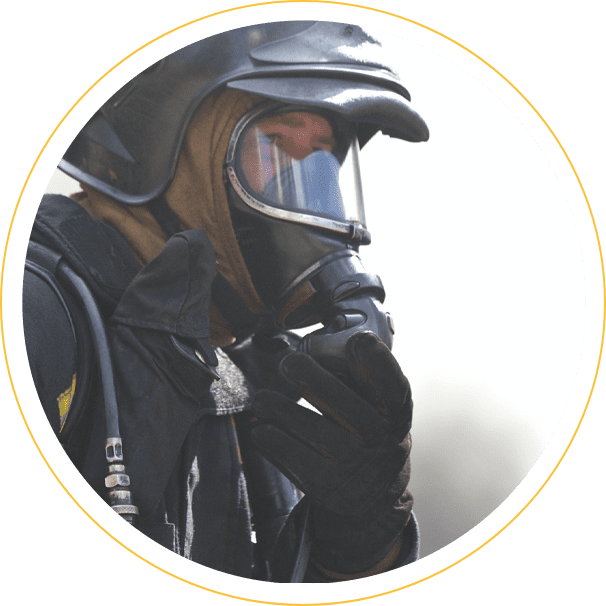 Keeping your operation connected, safe, and productive
Firefighters and fire departments deal with some of the most intense working conditions. Their environment is challenging because of extreme temperatures, exposure to carcinogens, collapsing infrastructure, and heavy equipment they need to wear to save lives. Not only do they have the stress of navigating harsh conditions, but firefighters also need to act fast and with extreme precision to ensure the safety of everyone in the area and their team.
For their crews to operate efficiently, they need communication solutions built to overcome the hectic and noisy environments they encounter. Reliable radios are central to effective situational awareness, enabling incident commanders (ICs) to communicate with their crewmembers, assisting agencies, and the governments they serve in real-time. When every second counts, any lapses in communications could be detrimental to everyone's safety in the situation.
Motorola fire radios and accessories are made to the highest quality standards to handle extreme temperatures, drops, and offer superior dust and water resistance. The public safety centric solutions from Motorola are specially configured to help agencies boost communications and accelerate dispatch speed.
Motorola Fire Radios Made For You
Fire department 2 way radios and accessories all undergo Motorola's extreme Accelerated Life Testing (ALT) process. This means every Motorola two-way radio has been tested in an environment that simulates years of extended field use in conditions that real firefighters face every day.
During ALT, firefighter two-way radios go through field testing to ensure they can handle multiple drops. While your team members are racing through a burning building or up a ladder, it's not unlikely they could drop their radio. Your investment in Motorola firefighter portable radios is protected with materials and hardware built to withstand multiple drops from heights firefighters face while on-scene.
Most electronic devices cannot handle extreme temperatures and will fail when exposed to extreme heat or cold. The PPE firefighters wear keeps them shielded from the heat they face, and the rest of their equipment needs to withstand the same degrees. Motorola fire radios are exposed to shock tests where they are heated and cooled between -35°c and + 75°c multiple times ensuring the equipment you buy will work even in the harshest temperature.
During a fire emergency, firefighters are exposed to smoke, dust, and water. Motorola firefighter radios are built to filter out these elements and continue to perform as they need to. ALT simulates the amount of dust and water firefighters experience during a mission to ensure their radios and accessories are built to handle the situations they'll face in the real world.
Download Industry Resources
Serving the Southeast Since 1969
Diversified Electronics Inc. is an authorized Motorola Solutions Channel Partner and Service Elite Specialist, with several locations in South Carolina and Georgia. We are a family-owned and operated business dedicated to providing leading wireless communications solutions since 1969, always living by the motto "Do it right the first time". No matter the size of your operation, our Wireless Communication Specialists can help you determine the right solution for your team and budget.
Got questions?
Connect with us.