IFC 510 Testing & Certifications
Meet your IFC 510 in-building coverage requirements with Diversified Electronics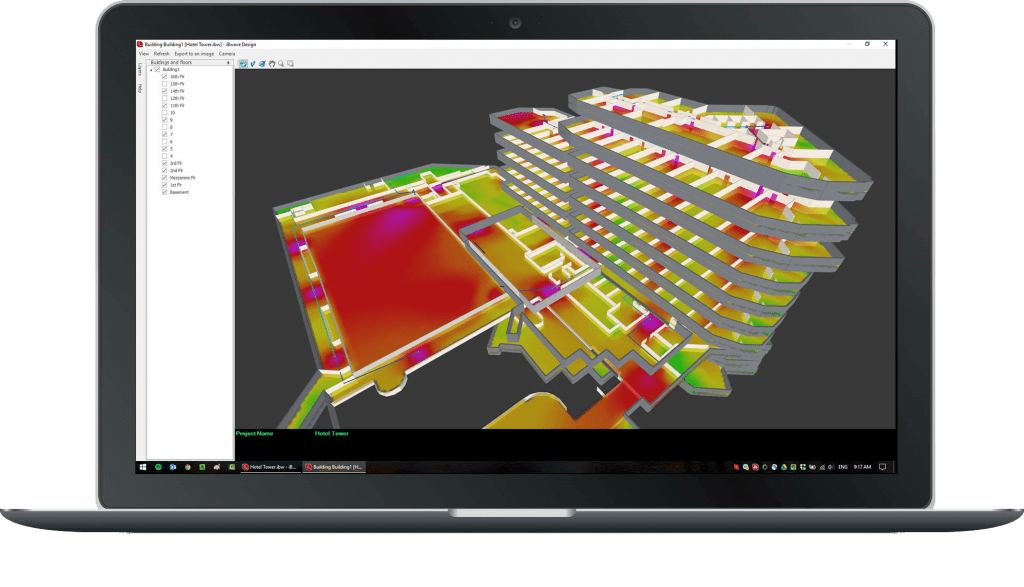 Meeting IFC 510 Standards
When it comes to communication safety standards, our experienced and qualified team will work with you to successfully meet code requirements and pass requirement testing. Navigating building and code requirements can be challenging for for many owners and developers. Take a quick dive into our IFC 510 overview. If you have any questions, please reach out to us and a qualified team member will be happy to answer any questions. 
The adoption of the International Fire Code (IFC), Section 510, requiring in-building coverage for public safety radio communication systems has caused some confusion and surprised some building owners and developers as most were unaware of this relatively new requirement. IFC 510, specifies that "All new buildings shall have approved radio coverage for emergency responders within the building based upon the existing coverage levels of the public safety communication systems of the jurisdiction at the exterior of the building". By adopting this requirement, public safety agency first responders will have more effective and reliable in-building radio communications. 
Most new commercial buildings erected in Cobb County, Georgia (and many other municipalities) are subject to the IFC 510 building code and are required to be tested by qualified personnel. In most cases, a "Letter of Certification" must be submitted to the local fire officials before they will issue a "Certificate of Occupancy". 
Building Qualifications & ERRCS
Trained and certified technicians utilize specialized equipment to measure the transmitted Public Safety Radio System signal levels that are penetrating from outside the building, as well as, the Emergency Responder radio signal levels transmitting back to the Public Safety Radio System tower site, from inside the building. Per IFC 510, two-way radio coverage must be a minimum of 95% on each floor of the building. If the building passes, a letter is issued to certify IFC 510 compliance. If the building fails, it is the responsibility of the building owner to have an "Emergency Responder Radio Coverage System" (ERRCS) installed and maintained to provide the required radio coverage per IFC 510. The system must also include a secondary power source capable of operating the ERRCS for a period of at least 24 hours. 
Diversified Electronics, Inc. can test and certify buildings for IFC 510. Our team of qualified RF Design Engineers and Test Technicians have over 50 years of experience designing, testing and maintaining Public Safety Radio Communications Systems. We utilize industry standard, calibrated test equipment to perform on-site spectrum analysis of radio signal levels to ensure compliance with IFC 510 requirements and work closely with local fire officials to verify that our testing services meet the agencies current regulatory requirements. A "Letter of Certification" for buildings that pass the testing is provided to local Fire Officials upon completion of the IFC 510 testing.
From Test Failure to Compliance
If a building fails the IFC 510 testing, the local fire officials will usually require that an "Emergency Responder Radio Coverage System" (ERRCS), with a secondary power source, be installed. Diversified Electronics can provide a turn-key ERRCS solution to bring your building into compliance with the IFC 510 code. Because each building situation varies in size and complexity, our engineering group utilizes "iBwave Solutions" software to design and propose a cost efficient ERRCS system specifically tailored for your building.  An ERRCS is a Signal Booster System that includes a Bi-Directional Amplifier (BDA) to amplify the Public Safety Radio Communications System's signal levels in and out of the building and a Distributed Antenna System (DAS) that distributes the amplified radio signals throughout the levels of the structure via a series of antennas. Many factors are considered in the design. Building size, adjacent buildings, levels below grade, terrain, construction techniques and materials that tend to block or severely degrade radio communications all have to be factored into the design and can make meeting the IFC 510 building code a challenge, even when the building is close to a Public Safety Radio Communication Systems tower site. 
Per IFC 510, "The emergency responder radio coverage system shall be inspected and tested annually or whenever structural changes occur including additions or remodels that could materially change the original field performance tests". Diversified Electronics offers extended warranties, maintenance contracts and annual inspection services to ensure that equipment is operating correctly and complies with IFC 510 requirements. Our engineering group can also provide a design and proposal to modify an existing ERRCS system in the event of a building addition or remodeling project. 
Include Cost of Compliance Within a New Building Budget
Diversified Electronics can provide a budgetary proposal for an ERRCS system that will ensure your entire building will comply with IFC 510 requirements. Our team can also help you pre-plan for the installation of an ERRCS so that conduit, access panels and rooftop access for an antenna system can be included in your building's budget and project plans. Some components can even be pre-installed during construction to simplify the installation of the ERRCS. Compliance testing can be conducted prior to completion of the building to verify if the structure meets the IFC 510 code or if an ERRCS will be required. A final detailed proposal can be provided if the building (or portions of the building) fail the test. 
Serving the Southeast Since 1969
Diversified Electronics Inc. is an authorized Motorola Solutions Channel Partner and Service Elite Specialist, with several locations in South Carolina and Georgia. We are a family-owned and operated business dedicated to providing leading wireless communications solutions since 1969, always living by the motto "Do it right the first time". No matter the size of your operation, our Wireless Communication Specialists can help you determine the right solution for your team and budget.
Got questions?
Connect with us.