Equipment & Infrastructure Services
Factory-trained and certified to build and maintain your communication systems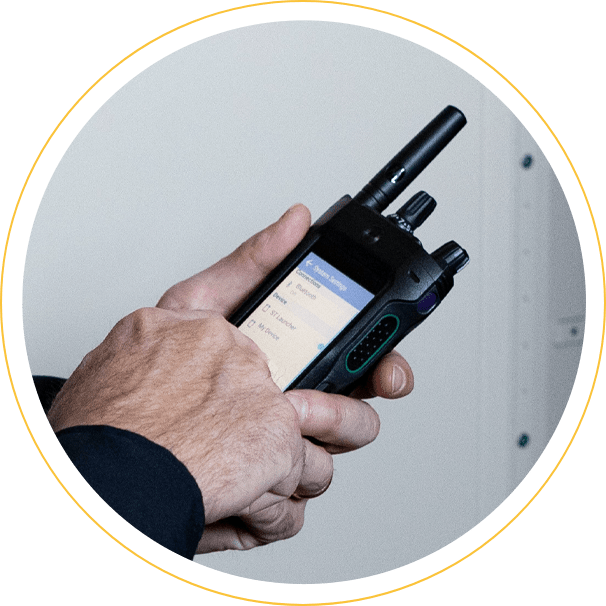 offers expert radio communication services to set up and maintain the two-way radios and infrastructure we sell. Your network must be always-available, resilient, and responsive to support operations from routine activities to international crises. Maintaining your network and devices is essential to ensure continued reliable communication from every end of an operation. Without connectivity, you can experience reduced efficiency or even shutdowns and create hazardous conditions if an employee cannot contact the team they rely on.
As a Motorola Solutions Service Specialist, employs factory-trained and certified technicians to deliver expert system design, installation, maintenance, and service for all of our systems and equipment.
Proper installation of equipment is a critical factor of any radio communication system. Our factory-trained installation professionals offer a one-stop location for all of your two-way radio services needs. provides professional installation for vehicular equipment, remote control stations, in-car video camera systems, emergency lighting, and more.


A maintenance agreement helps protect your investment while reducing system downtime and keeping repair costs under control. Unexpected expenses are never a good thing, but a maintenance agreement can help you prepare and budget for the future. Diversified Electronics has direct access to the latest testing equipment and maintenance tools to provide service on all the radios and equipment in our extensive inventory.


Renting rugged, portable radios is an effective way to increase productivity and ensure your workers' safety. Our short-term and long-term two-way radio rental plans are ideal for seasonal industries, special projects, and events. Renting your communications equipment gives you access to the latest technology, minimizes upfront costs, and allows you to budget with flexible terms.


Motorola stands behind all of their products and offers some of the best warranties for two-way communication systems. On occasion, accidents and damage can happen to the devices that keep you connected. By enlisting our trusted factory-trained and certified technicians to handle your repairs, you can expect quick turnaround times and a device that works as good as the day you bought it.


The Federal Communications Commission (FCC) regulates radio frequencies that your professional two-way radios operate on. Although the FCC does not require licensing for purchasing two-way radios, mandatory licensing is required for transmitting on frequencies. Our two-way radio service providers can determine if your radios meet FCC requirements, help you with your license application, and complete all of the necessary paperwork.


System Design & Integration
Our team of experts at Diversified Electronics work with your budget to create a customized communications system that will boost productivity and improve safety. Every commercial or government operation is unique, with specific needs and expectations. We custom-build solutions to work for you, not the other way around. Diversified Electronics has the knowledge, experience, and skills to build, manage, and maintain your communications system, no matter how small or large your operation is.


In-Vehicle Install Estimate
As a Motorola Service Elite Specialist, Diversified Electronics has gone through extensive training to provide your department with expert emergency vehicle upfitting and equipment installation, service, and repair. Our installation and upfitting services save busy public safety agencies time and effort, so you can devote your energies to the essential duties you've been tasked with. Diversified Electronics can provide you an accurate estimate about the expected cost of your next install to help your agency plan and budget for the future.
Serving the Southeast Since 1969
Diversified Electronics is an authorized Motorola Radio Dealer and Service Elite Specialist, with several locations in . We are a family-owned and operated business dedicated to providing leading wireless communications solutions since 1969, always living by the motto "Do it right the first time". No matter your operation's size, our Wireless Communication Specialists can help you determine the right solution for your team and budget.
Got questions?
Connect with us.