Cellular Coverage Solutions
Expand your cellular network connectivity & capacity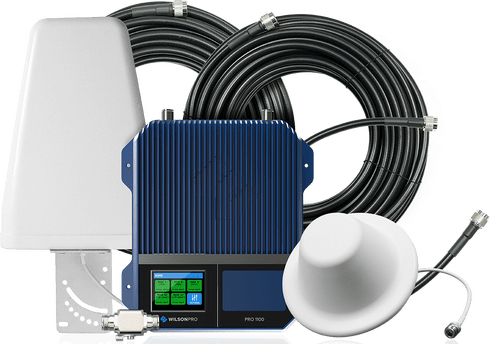 We live in a world that relies on cellular coverage to keep us all connected. Dense materials like metal, concrete, and insulated glass often interfere with incoming cellular signals. Metal bodies of most vehicles also block cellular service, making it difficult for your mobile fleet to communicate. If your business operates in remote areas, distance from cell towers and obstructions between you and that cell tower can be another factor leading to inadequate cellular coverage.
Cellular coverage solutions are generally a repeater system that works by pulling in weak signals, boosting it, then rebroadcasting it in that area. These boosters are made of three main parts. An outside antenna pulls in the incoming signal, an amplifier adds gain or power to the reception in various directions, then a second inside antenna rebroadcasts the boosted signal. The result is more bars for your cellphone, even in the most remote of locations.
To give you the connectivity you need, Diversified Electronics works with industry leaders such as Wilson Pro, Cel-Fi, and Spidercloud Wireless. We provide a range of indoor & outdoor solutions to boost mobile coverage and signals for commercial, residential, enterprise, and transportation applications. Our experts can evaluate the needs of your South Carolina and Georgia organization and provide you with the solution that meets your demands and suits your budget.
WilsonPro solutions provide commercial-grade, in-building, and fleet vehicle cellular signal enhancement technology. For over 20 years, they've developed custom solutions to help businesses solve their cellular connectivity issues. WilsonPro systems are compatible with all U.S. carriers and mobile networks, including AT&T, Sprint, Verizon, T-Mobile, U.S. Cellular, and more. An all-inclusive, FCC-approved way to enhance your in-building cell signal, this solution is perfect for small to medium business applications.
Award-winning Cel-Fi solutions developed by Nextivity Inc. are ideal for enterprise environments, small businesses, multi-story homes, remote settings, marine, and vehicles. Cel-Fi products are self-configuring, leveraging the IntelliBoost chipset to deliver the industry's highest gain at the lowest cost per square foot. You experience an "unconditionally" safe network with Cel-Fi, as it prevents interference with mobile operator networks. Carrier approved for 3G/4G/LTE voice and data; this trusted solution is authorized by 200 carriers. Cel-Fi boasts an impressive line of products, meaning there is a solution ideal for almost all business applications.
Spidercloud Wireless cellular product solutions are made to support buildings from 10,000 square feet up to the largest stadium. By combining the core in-building networks that already exist, local area networks (LAN), power, and cellular networks, a comprehensive solution for Enterprise and Carriers is created on one fiber-based backbone. The technology is sophisticated, but the solution simply increases indoor cellular coverage and is easily scalable for your growing business. If you're experiencing poor cellular connectivity in your enterprise-level business, Spidercloud Wireless is likely the ideal solution.
Serving the Southeast Since 1969
Diversified Electronics Inc. is an authorized Motorola Solutions Channel Partner and Service Elite Specialist, with several locations in South Carolina and Georgia. We are a family-owned and operated business dedicated to providing leading wireless communications solutions since 1969, always living by the motto "Do it right the first time". No matter the size of your operation, our Wireless Communication Specialists can help you determine the right solution for your team and budget.
Got questions?
Connect with us.