Hospitality Communications Solutions
Unified voice, video, and data for small and large-scale operations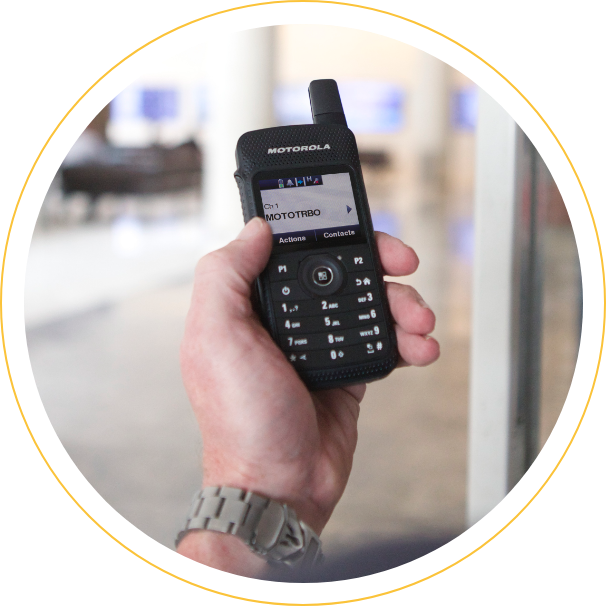 Taking customer service to the next level with Motorola radios for hospitality
Staying competitive in the hospitality industry requires finding innovative ways to save money. Success in hospitality depends on the quality of customer service your team provides. The ability to quickly address and respond to your guests' needs will be the defining factor in their choice to come back.  
Whether your staff is welcoming a group at the front desk or maintaining greens on the back nine, you can keep everyone easily and seamlessly connected with two-way radios. Your hospitality team can reduce costly downtime while improving response rates with purpose-built Motorola two-way radios for restaurants, hotels, resorts, casinos, and a wide range of other hospitality businesses.
Versatile and powerful, Motorola hotel two-way radios are designed to work with your hospitality service in South Carolina and Georgia on every level. From the ultra-thin, ultra-light SL Series that fits discreetly in the pockets of front desk agents, to the more rugged and durable XPR 7000 for the maintenance team, there are Motorola radio models to suit the unique needs of each individual user. 
Keeping your guests happy requires constant communication between staff, anytime, anywhere. Motorola Team Communications system allows you to connect different devices and initiate Push-To-Talk (PTT) capabilities. Whether you're holding a radio (walkie talkie) or a smartphone, you'll never be more than one push away from instant communication. Your workers can maintain reliable coverage on large properties with our Bi-Directional Amplifiers (BDA) and Distributed Antenna System (DAS), eliminating dead zones and dropped calls. 
Turn Valuable Customer Data into Action
Thanks to a robust eco-system of Motorola software developers, hospitality applications can be purpose-built for a diverse range of roles, departments, and objectives. For example, a security camera system integration that can send alerts to a mobile phone, tablet, or hotel walkie talkie. 
Gathering and analyzing data on guest bookings, preferences, and occupancy patterns across multiple touchpoints and applications can also drive more effective pricing options and promotions. This added intelligence results in new revenue streams, streamlined workflows, time savings, and increased workplace safety and security.
Download Industry Resources
Serving the Southeast Since 1969
Diversified Electronics Inc. is an authorized Motorola Solutions Channel Partner and Service Elite Specialist, with several locations in South Carolina and Georgia. We are a family-owned and operated business dedicated to providing leading wireless communications solutions since 1969, always living by the motto "Do it right the first time". No matter the size of your operation, our Wireless Communication Specialists can help you determine the right solution for your team and budget.
Got questions?
Connect with us.