Construction Communications Solutions
Integrated voice, video, and data systems for single and multi-site operations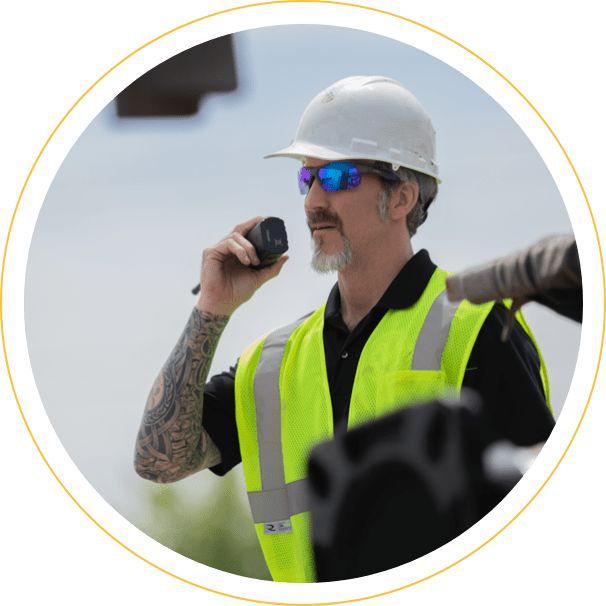 Keeping crews connected, safe, and productive
The ever-advancing construction industry requires finding innovative ways to save time and money to keep up with your competitors. Along with the stress of controlling material and labor costs, dropping profit margins, and competitive bids, the last concern on a construction site should be communication.
Diversified Electronics Inc. offers construction two-way radios and interoperable communications for small independent contractors, mid-size contractors, and large construction operations. From new homes to commercial buildings and road work, we provide a customized communications solution that will keep your crews safe while reducing the cost of inefficiencies and downtime
Our construction two-way radios are versatile and powerful, and seamlesslyintegrate with our full suite of video, voice, and data solutions to help keep jobs on-schedule and on-budget. Two-way radios offer advanced features such as noise-cancelling audio to ensure messages are heard over loud machinery or extreme weather and never have to be repeated.
Motorola construction radios come packed with safety features. When a worker has  fallen or becomes unresponsive, features such as Man Down and Lone Worker send  automated alerts to accelerate emergency response. Responders can find and resolve emergency situations faster than ever before with GPS and audio signals providing precise user location information.
With just the push of a button, radios make it easy to request additional tools, equipment, and crew members. Motorola construction radio batteries also provide up to 25+ hours of talk time, eliminating the need to swap out batteries mid-shift, even when your team is clocking overtime. Indoor location tracking and GPS makes it easy for management to monitor and effectively allocate personnel and mobile assets.
Most Popular Construction Radio Accessories
Download Industry Resources
Serving the Southeast Since 1969
Diversified Electronics Inc. is an authorized Motorola Solutions Channel Partner and Service Elite Specialist, with several locations in South Carolina and Georgia. We are a family-owned and operated business dedicated to providing leading wireless communications solutions since 1969, always living by the motto "Do it right the first time". No matter the size of your operation, our Wireless Communication Specialists can help you determine the right solution for your team and budget.
Got questions?
Connect with us.