Emergency Services Communications Solutions
Integrated voice, video, and data solutions for mission-critical operations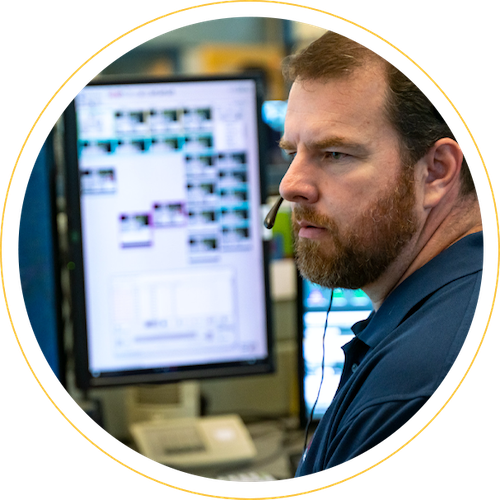 Keeping your operation connected and safe with reliable communications and actionable intelligence
An end-to-end emergency response system allows your South Carolina and Georgia agency to communicate directly with other emergency responders across locations and jurisdictions for major event collaboration and support. Motorola EMS radios and the suite of integrated technology make it possible for your command and control center to access and share information from various inter-agency sources.
Emergency communications technologies enable dispatch centers to provide first responders with detailed incident information and situational awareness to arrive on-scene better prepared to approach the situation. Enhanced data and voice capabilities allow agencies to coordinate better and manage community paramedicine efforts and equip EMTs to treat more patients onsite. Equipped with Motorola's emergency two-way radios, your team of public safety personnel can experience the benefits state-of-the-art instant communication devices offer.
Motorola's Accelerated Life Test (ALT) is a process of rigorous testing that simulates years of field use. All Motorola Solutions products are designed to withstand the knocks, bumps, and drops they will experience during the real-life environments they will be exposed to. With Accelerated Life Testing (ALT), destructive testing, and feedback from the field, Motorola EMS portable radios, mobile radios, and accessories are built to stand up to the situations emergency services face every day.


WAVE OnCloud and TLK Radios
The Motorola WAVE TLK radios combine the broad coverage of a nationwide cellular network with the ease of radio communication. Motorola WAVE OnCloud makes managing all your radio systems, applications, and broadband networks fast and easy. Equip your team with this cutting-edge technology to improve your communications system and operational efficiency. You can even use the WAVE TLK 100 and TLK 150 radios with your current compatible two-way radio systems and smartphones. No costly, time-consuming FCC or spectrum licensing or manual programming required.
Download Industry Resources
Serving the Southeast Since 1969
Diversified Electronics Inc. is an authorized Motorola Solutions Channel Partner and Service Elite Specialist, with several locations in South Carolina and Georgia. We are a family-owned and operated business dedicated to providing leading wireless communications solutions since 1969, always living by the motto "Do it right the first time". No matter the size of your operation, our Wireless Communication Specialists can help you determine the right solution for your team and budget.
Got questions?
Connect with us.