Dispatch consoles, logging, and software for mission-critical communications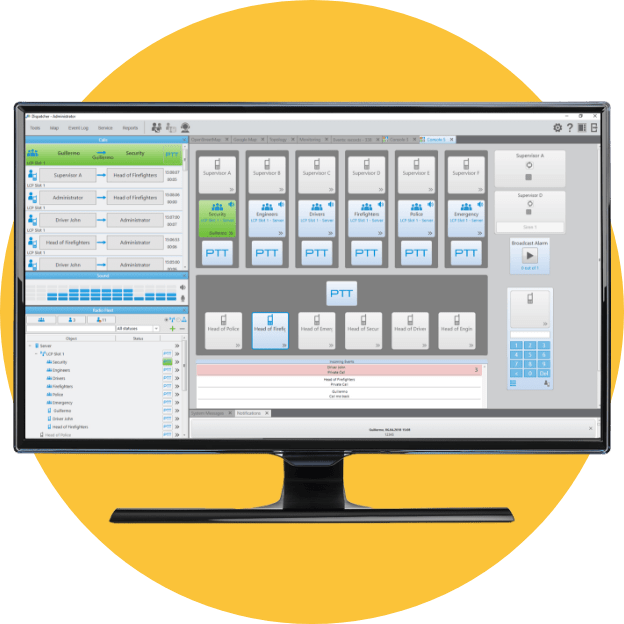 Whether your organization is large or small, with basic or complex needs, Diversified Electronics dispatch communications solutions provide the reliable connectivity, intuitive operation, and robust functionality your dispatch center needs to ensure your teams in the field are supported and safe. 
Public safety dispatch consoles provide your team with relevant, real-time insights for full situational awareness and response. A highly intuitive user interface increases ease of use for organizing resources, coordinating response efforts, and communicating valuable information.  
Voice logging recorders enable accurate call recording solutions to conduct thorough post-incident reviews and analysis. Seamlessly retrieve audio and data from radio and telephony calls so you can recreate the communications around an incident. 
SmartPTT is an advanced integrated voice and data dispatch software application for Motorola MOTOTRBO radio systems. Standard functionalities include voice dispatch, texting, job ticketing, event logging, and more. Optional features include GPS tracking, indoor location, voice recording, interoperability, telephone interconnect, and a web client for remote system access. 
Diversified Electronics understands the need dispatch centers have for critical intelligence. Our team will ensure that your dispatchers have the right equipment to provide accurate, real-time insights that help inform and protect teams in the field and the communities they serve. 
Benefits of Motorola Dispatch Solutions
From small to large geographically distributed operations, scalable architecture comes built-in to easily add multiple console positions, voice call recorders, and dispatch software as your communication needs change.
With options designed for both conventional and trunked systems, our portfolio of South Carolina and Georgia Motorola dispatch solutions provides the features you need to make quick decisions, mobilize a fleet, and keep staff informed.
When critical information needs to get out, downtime is not something you can afford. Diversified Electronics dispatch solutions have all been put through Motorola's rigorous testing programs to maximize uptime and reliability.
The entire suite of Diversified Electronics dispatch solutions features simple and flexible user interfaces to enable dispatchers to easily learn and navigate their new systems and equipment.
With Agency Partitioning, multiple agencies can share a system to gain interoperability and cost savings benefits, and still maintain control of their own channels, encryption keys, configuration, and more.
With interoperability for legacy console systems, you can deploy your new dispatch solutions at your own pace and budget. Direct connection to repeaters via IP protocol also reduces the costs for equipment needed to connect with a radio network.
Real-Time Intelligence When Every Second Counts
With the emergence of next-generation Digital Mobile Radio (DMR) standards, customers can deploy Diversified Electronics dispatch solutions with Motorola MOTOTRBO systems to enjoy fully-integrated feature-rich, reliable communications systems that add impact for a variety of commercial and government applications. 
As the world continues to become more connected, the expectation for instant coordination and a seamless flow of information is increasing. Have the peace of mind that your dispatchers have the best tools available to respond quickly and effectively.
Got questions?
Connect with us.