Motorola APX P25 Public Safety Radios
Integrated voice and data for mission-critical communications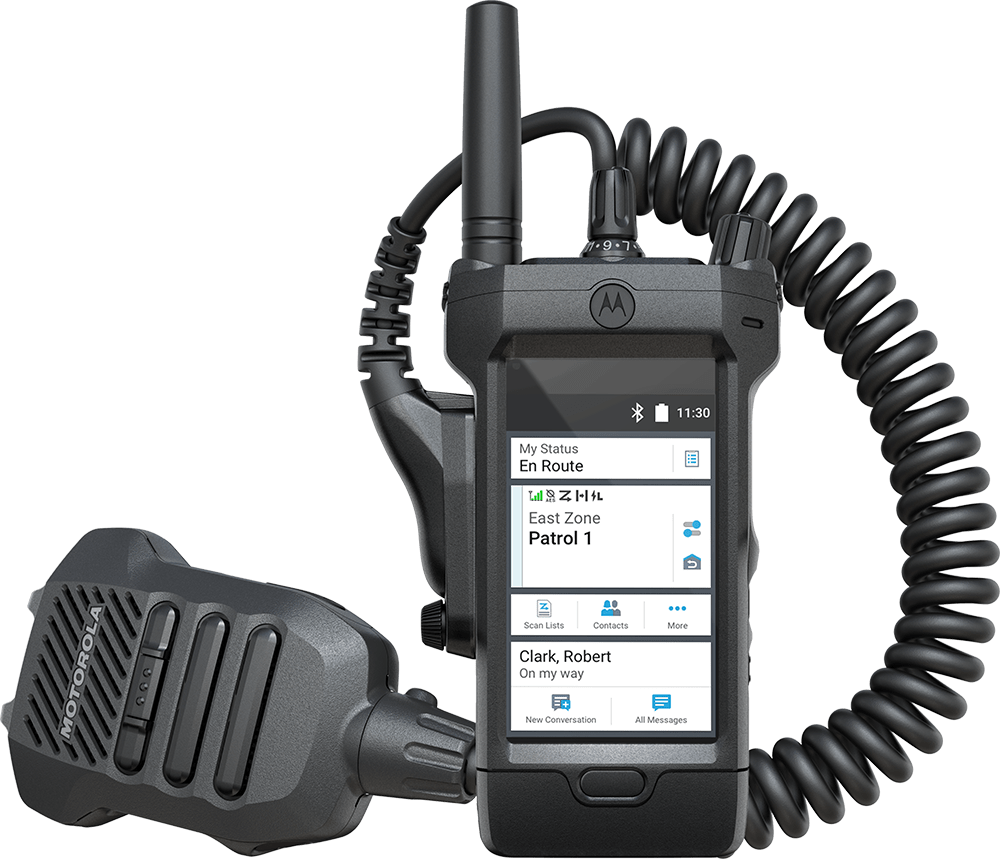 In an emergency, other first responders may be a few feet or several miles away. When every second counts, you need a radio you can rely on to get the job done. Since coordinating response and protecting lives is at the heart of every mission, every two-way radio transmission is crucial. Every radio has one job and one job only: to keep you safe. 
The Motorola APX P25 two-way radio series redefines safety in communication. APX puts the right device into the hands of the right user. Every feature and function is designed with its users in mind – from the rugged, easy to operate design to the loudest, clearest audio. The result is the ability to keep your people and community safer than ever before.
Benefits of Motorola Public Safety Radios
When your team gets into physically demanding situations, they need to focus on resolving the matter at hand, not worrying about dropping their radio. Motorola APX radios are built to withstand and perform in tough environments.
APX radios are designed using a T-Grip shape that secures the radio in your hand when wet or slippery. Large controls and buttons make it easy to operate your radio while wearing thick gloves.
Project 25 (P25) Certified
All Motorola APX mobile and portable radios are certified to the APCO Project 25 (P25) digital two-way radio standard and offer guaranteed interoperability with other agencies and organizations using P25.
Tested to withstand extreme pulls, Motorola P25 radios feature a multi-pin connector that secures your remote speaker microphone or headset from accidental disconnection.
During an emergency, changing out your radio's battery to charge isn't an option. Motorola's patented IMPRES battery technology delivers up to 29 hours of battery life to cover multiple shifts on a single charge.
Tunnels, high rises, and sub-basements can create challenges for transmitting audio and data communications. Motorola public safety radios are designed to continue performing in low reception areas.
Your line of work involves regular background interference from crowds, machinery, traffic, and sirens. Motorola APX radios come with several audio features to filter out background noise so your transmissions are crystal clear every time. Audio features include adaptive noise suppression, adaptive speaker equalization, adaptive gain control, adaptive windporting, and more.
Designed for Your Mission
ASTRO 25 is the leading Project (P25) standards-based system used by over 11,000 agencies around the world. With uncompromising real-world performance and legendary Motorola reliability, the ASTRO 25 solution continues to evolve, adding practical innovations and performance-driven capabilities that enable public safety agencies to protect the communities they work in and support neighboring communities through interoperability. 
Diversified Electronics has been working with public agencies across South Carolina and Georgia since 1969. Our team of experts are ready to answer any questions you have about Motorola public safety radios and how they can help your agency improve the safety of your team and the communities you serve.
Got questions?
Connect with us.