Motorola Two-Way Radios & Accessories
Integrated voice and data for accelerated workflows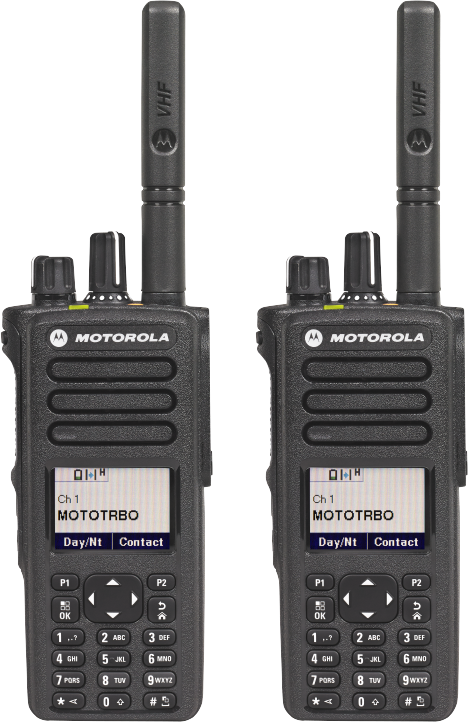 Motorola radios are not a new device, with their history dating back to the 1920s. What is new is the suite of capabilities, features, and extensive coverage that they offer. You might think that after all these years and with the rise of cellphones, two-way radios would have been rendered obsolete by now. However, using two-way radios in South Carolina and Georgia's commercial or government organizations can offer several advantages over any other form of communication.
The communication from Motorola radios is instantaneous, unlike cellphones, where you must dial a number and wait for the other to pick up. In many situations, especially during safety issues, instant communication with push-to-talk technology helps keep your team on top of tasks and informed with the most up-to-date information without any downtime to answer calls. Motorola Radio App and mobile two-way radios from Diversified Electronics Inc. can also come equipped with additional safety features that help protect every member of your team.
The durability of every radio is proven through Motorola's Accelerated Life Test (ALT), rigorous laboratory testing that simulates years of use in the field. Motorola's commitment to quality and reliability is unmatched with radios built and tested to achieve high levels of component and workmanship quality. Unlike your cellphone, two-way radios can handle drops, temperature shocks, exposure to dust and rain, and the tough nature of your work environment.
With the push of a button, the right solution can help your team maximize productivity and reduce inefficiencies. Diversified Electronics Incorporated is proud to offer Motorola's leading line-up of two-way motorola radios, designed for commercial and public safety communications. With the comprehensive selection of MOTOTRBO radios available, no matter the industry you operate in, there is a purpose-built Motorola radios for your business that will increase productivity, efficiency, and safety.
To complement the MOTOTRBO portfolio of digital two-way radio accessories, Motorola has partnered with premium developers across the industry to provide a wide selection of exclusive software applications to enhance operational efficiency and safety. Integrated and customizable Motorola radio apps boost communications with extended call functionality, monitoring, and management of personnel and assets. Not only will applications improve system stability, security, and reliability, but they will also reduce hardware overhead and maintenance costs. 
Motorola WAVE TLK 100 and Motorola WAVE TLK 150 two-way radios combine the broad coverage of a nationwide cellular network with the ease of radio communication. WAVE OnCloud is a communication service that instantly connects your team at the push of a button and shares multimedia information over the broadband devices and networks you already use. Easily increase coverage, connections, and productivity without expanding infrastructure with Motorola WAVE TLK 100 radios and WAVE OnCloud to your operation.
Modern businesses rely on many different systems, devices, and technologies to get the job done. Various devices and technology systems that operate on separate networks can keep business-critical information in silos, resulting in limited communication and collaboration. Motorola Team Communications offers an end-to-end industrial communications suite to break down the walls between your different technologies and systems and unify your entire operation.
The team of experts at Diversified Electronics understands that communication requirements are unique to each operation and individual user. Our team of Wireless Communication Specialists is prepared to recommend and supply the best Motorola two-way radio accessories that meet the demands of your organization. Whether your team needs heavy-duty headsets for ultimate hearing protection, multi-unit chargers for streamlined radio and inventory management, or wireless Bluetooth accessories for hands-free operations, the right accessory exists for your needs.
Motorola Radios for the Southeast Since 1969
Diversified Electronics Inc. is an authorized Motorola Solutions Channel Partner and Service Elite Specialist, with several locations in South Carolina and Georgia. We are a family-owned and operated business dedicated to providing leading wireless communications solutions since 1969, always living by the motto "Do it right the first time". No matter the size of your operation, our Wireless Communication Specialists can help you determine the right solution for your team and budget.
Got questions?
Connect with us.