Film, TV & Movie Production Communications Solutions
Integrated voice, video, and data for your team communications on set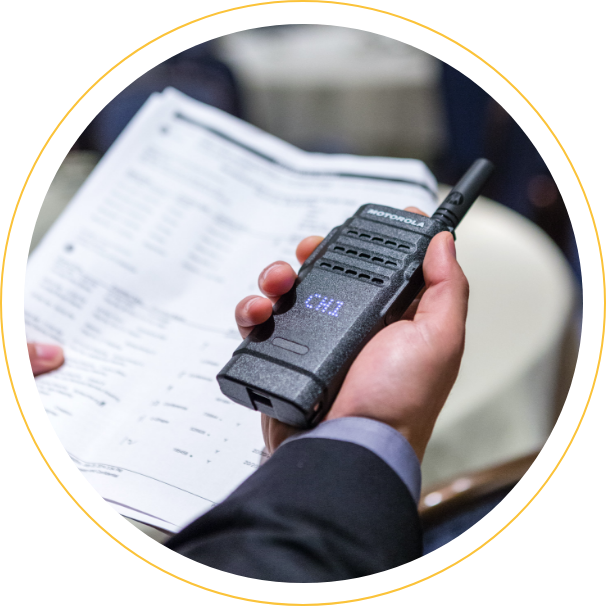 Keeping your operation connected, safe, and productive
Proper communication is crucial on any set, and with our industry leading production communication solutions, your crew will be able to reliably communicate across your set or on location.  Diversified Electronics offers custom designed solutions to all of your short-term and long-term production needs.    
From studio production, stunt communication solutions, and on camera "period accurate" vintage radio communication equipment, our attention to detail gives you the confidence you need for a successful production. Our solutions are designed to be reliable, durable and easy to operate. No matter the size of your production, we offer solutions That Won't Break Your Budget.  
Our Fleet of Digital and Analog Radio Solutions include: 

Look to Motorola MOTOTRBO for your on-set coverage solutions in [xyz-ics snippet="Dealer-Location"]. Invest in digital two-way radios and improve team communications and on-set reception. Motorola's film, tv and movie production two-way radio systems work when and where you need them to.  
Digital radios can be instrumental for film, tv & movie production when it comes to providing status reports, checking alarms, and checking in with people. But when it comes to emergency situations, digital radios can be a lifeline for security. That's why only the best will do. We offer a wide range of rugged, durable industry-leading radios ideal for property management solutions with available features like Lone Worker, Man Down, and emergency notifications.   
Solutions That Work For You
Through our partnership with Motorola, we offer a variety of radio styles to accommodate the diverse needs of your team. For instance, your stunt coordination teams need radios that are rugged and work well in the elements, so we offer a variety of ruggedized radios that are durable and can take a few hard knocks. Office staff may prefer smaller, sleeker radios that are more lightweight and discrete to use. Wherever you are, whatever you're doing, [xyz-ics snippet="Dealer-Name"] has a radio to fit your needs. 
Serving the Southeast Since 1969
Diversified Electronics Inc. is an authorized Motorola Solutions Channel Partner and Service Elite Specialist, with several locations in South Carolina and Georgia. We are a family-owned and operated business dedicated to providing leading wireless communications solutions since 1969, always living by the motto "Do it right the first time". No matter the size of your operation, our Wireless Communication Specialists can help you determine the right solution for your team and budget.
Got questions?
Connect with us.