Healthcare Communications Solutions
Integrated voice, video, and data for small and large-scale healthcare facilities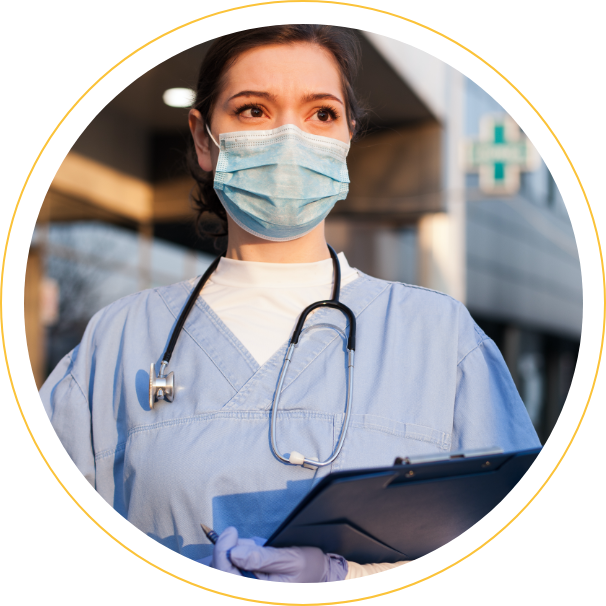 Keeping staff, patients, and visitors safe
Healthcare workers in hospitals, extended care, and nursing homes are increasingly at risk of experiencing violence in the workplace. Improving communications in South Carolina and Georgia's healthcare industry is the first line of defense in improving safety in these work environments.
Motorola two-way radios for healthcare teams in South Carolina and Georgia not only increase safety but also facilitate other positive organizational outcomes like improved efficiency and higher morale. If your hospital, extended care facility, or nursing home is ready to reap the benefits of a complete Motorola communications system, request a quote today to get started. 
Boost Team Communications
Whether it involves frontline staff, administrative workers, or security, an incident in the hospital can occur at any time, in any place, and without warning. The better equipped each team member is to deal with a situation, the higher the chances are of a positive outcome. Motorola two-way radios and security cameras in hospitals and healthcare facilities will enable your team members to accelerate coordination for emergency response. They can navigate emergencies by quickly and efficiently relaying critical information in real-time to those who need it in the moments that matter most. 
Systems That Work for You
If Motorola two-way radios for healthcare are the heart, then the Motorola MOTOTRBO digital platform is the backbone of integrated healthcare communications. This solution connects all of the other pieces together—the digital two-way radios, accessories, applications, systems, and support services. 
Most hospital employees work long shifts in facilities that operate 24-hours a day. The Motorola hospital radios (also called walkie talkies) your team uses need to keep up with the fast pace and heavy demands of long shifts. Not only do we offer Motorola radios with outstanding battery life, but we also offer smaller, wearable radios that are easy for workers to carry for the duration of their long shifts.
Download Industry Resources
Serving the Southeast Since 1969
Diversified Electronics Inc. is an authorized Motorola Solutions Channel Partner and Service Elite Specialist, with several locations in South Carolina and Georgia. We are a family-owned and operated business dedicated to providing leading wireless communications solutions since 1969, always living by the motto "Do it right the first time". No matter the size of your operation, our Wireless Communication Specialists can help you determine the right solution for your team and budget.
Got questions?
Connect with us.