Retail Communications Solutions
Integrated voice, video, and data for small and large-scale shopping centers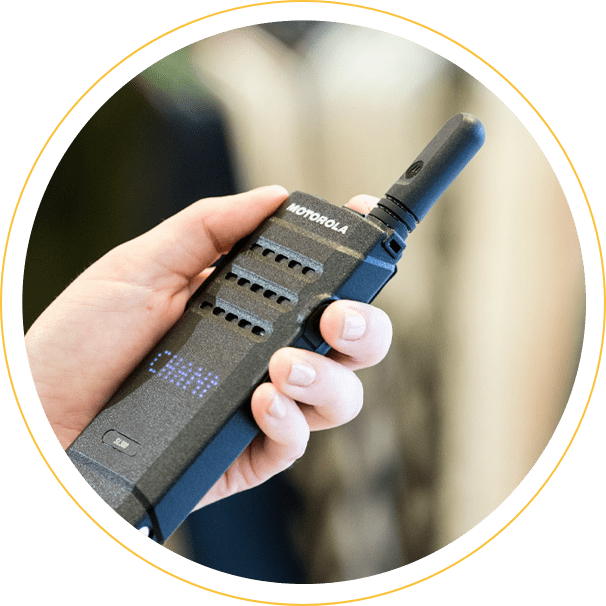 Meet customer needs faster with retail radios
Level up your South Carolina and Georgia business with Motorola retail radios specifically designed for your industry. The way your employees communicate with each other plays a significant role in how customers are served at your South Carolina and Georgia retail business. A customer's experience within your retail store largely impacts purchasing decisions and brand loyalty. 
From knowing key pieces of information about the store and products or being able to deliver on customer needs, seamless communication through retail two-way radios can make all the difference. Discover industry-leading communication technology with two-way radios for retail outlets, department stores, shopping centers, and supermarkets from Diversified Electronics. 
Increase Customer Satisfaction
Elevate customer experience with seamless communications. Create a positive shopping experience for your customers with well informed and coordinated staff. Improve communications between store associates and managers to create a real-time flow of information and turn shoppers into loyal brand advocates. Extend the benefits of real-time communications into your warehouse and distribution centers creating an efficient operation that delivers the highest level of customer satisfaction. 
Whether you're operating a posh boutique specializing in limited edition inventory or a mega-mall welcoming shoppers from the four corners of the world, you need to be able to communicate effectively and discretely with various members of your staff. We offer a wide range of small walkie talkies for retail stores, ideally suited for your communications needs that are lightweight and easy for your employees to carry throughout their shifts. 
Two-way radios for department stores and retail operations are easy to use and offer accessories, like earpieces to aid with discrete communication or long-lasting batteries that won't quit during your busiest days. At Diversified Electronics, we are a Motorola Solutions Channel Partner, meaning we have advanced education and training in the latest technology Motorola has to offer. We want to share that knowledge with you to create the perfect solution for your business needs to boost productivity.
Download Industry Resources
Serving the Southeast Since 1969
Diversified Electronics Inc. is an authorized Motorola Solutions Channel Partner and Service Elite Specialist, with several locations in South Carolina and Georgia. We are a family-owned and operated business dedicated to providing leading wireless communications solutions since 1969, always living by the motto "Do it right the first time". No matter the size of your operation, our Wireless Communication Specialists can help you determine the right solution for your team and budget.
Got questions?
Connect with us.