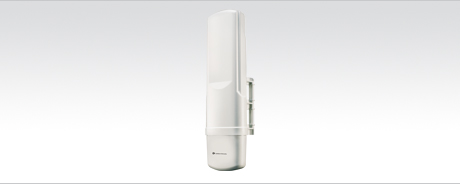 Provides a Low-Cost Solution For Deployment, Expansion and Extension of Broadband Communications Networks
This series of bridges make use of Cambium's proprietary Point-to-Multipoint Wireless Broadband platform modulation scheme to deliver broadband connectivity across distances of up to 35 miles (56 kilometers). The PTP 100 Series is available in a broad range of frequencies (2.4, 5.1, 5.2, 5.4, and 5.8 GHz) and is uniquely suited for delivering consistent throughput in Line-of-Sight (LoS) configurations.
The PTP 100 Series of wireless Ethernet bridges offer enterprises and telecom operators a reliable and affordable entry point for providing wireless broadband connectivity to the locations that need it most. A simple license key upgrade system enables operators to add more throughput as their network requires it from as low as 2 Mbps in some regions of the world up to 14 Mbps. These radios are ideal for Line-of-Sight conditions. Not only are they highly reliable, weather resistant, compact, and rugged in design, the PTP 100 radios produce consistent data rates in the face of interference. Ideal applications for these bridges are rural or remote locations, campus applications, temporary and emergency systems, video surveillance, telemedicine, e-learning, and banking.
These solutions support both over-the-air DES (Data Encryption Standard) encryption and are also available with AES (Advanced Encryption Standard) capabilities, which provide 128-bit encryption, to ensure secure data delivery and exceptional reliability.
No additional features are available for this product
No additional specifications are available for this product
No downloads are available for this product