Motorola MVX 1000 Mobile Digital Video System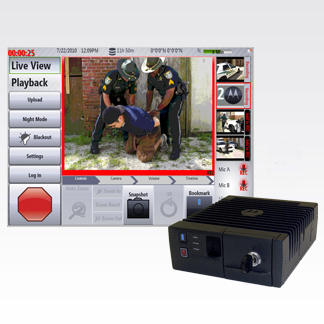 As vehicular video becomes a necessity in law enforcement, we deliver the MVX1000. From its rugged, solid-state form factor to its intuitive user interface, the MVX1000 Mobile Digital Video System is designed to capture high-quality video in the vehicle while letting you focus on your job. The solid-state hard drive records video, audio and GPS location. At the station, download data to the server – wirelessly, or over a wire. Video, audio, and data streams can be reviewed or exported as evidence. Correlate video from multiple vehicles – or with additional software, integrate fixed-video feeds and audio logs to reconstruct an incident, minutes or months after it occurs.
Advanced video storage and processing

Easily find, manage, and export video evidence.

Built-in 802.11n with 3x3 MIMO

Supports wireless transfer speeds up to six times faster than 802.11g (requires appropriate network infrastructure.

Choice of data transfer methods

Upload data over the wire or wirelessly.

Choose your interface

Connect to an in-car MDT (like the MW810 Mobile Workstation or a laptop) or use the dedicated 5-inch touch screen display.

Correlation capabilities

Once on server, in-vehicle videos and data can be synchronized and combined with fixed-video and voice into a single incident (fixed-video and voice support optional).

Installs in trunk or passenger cabin

Compact, fanless, solid-state form factor allows installation virtually anywhere, making best use of vehicle space.

Mission critical user interface

Clear and intuitive, designed with input from public safety personnel and Motorola's experts to let you concentrate on the situation at hand.

Rugged and compact

MIL-STD-810G tested and IP54-sealed, designed to deal with heat, cold, vibration, humidity, water spray, dust and other hazards.

Ten-second rewind

Instantly check what just happened, with one click.
No additional specifications are available for this product