Motorola NX 9000 Integrated Services Controller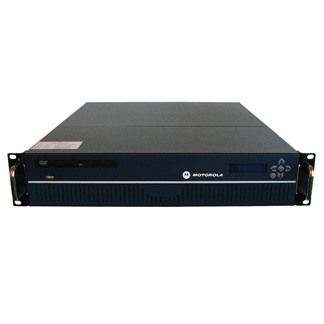 Whether deploying a network across multiple schools in a district, campuses in a hospital system or a retailer's store branches, the NX 9000 Integrated Services Controller is set up to handle several sites and thousands of users. Your IT staff can centrally control networks of 1,000 to 10,000 WLAN access points geographically dispersed across small or medium-sized enterprise locations. WiNG 5 access points intelligently handle the traffic flows, quality of service, mobility and security at remotely distributed locations, while the NX 9000 provides a single point for configuration, policy setting and remote troubleshooting. Hotspot configuration, security policy management and statistics aggregation are all done by one powerful controller located at headquarters or a datacenter.
Centralized control for Distributed WLAN networks

Easily grow the wireless network across multiple geographic locations, scaling to 10,000 WiNG 5 network access points that provide intelligence at the network edge with complete visibility and policy management from a centralized location in the NOC or private clou

Comprehensive troubleshooting and visualizations

Multiple troubleshooting features make network runtime network management easier. Remotely debug problems, use packet capture and aggregated statistics/system logs to quickly pinpoint issues, and use heat maps and client visualizations to get a complete picture of the health of the RF network.

Fast and easy deployment

Rapidly deploy and configure multiple distributed locations automatically using auto provisioning policies, with zero pre-staging on the access points. Firmware updates are made easy by single image downloaded once over the WAN link to the WiNG 5 access point as a virtual controller, which in turn pushes the firmware to the neighboring WiNG 5 access points in the network

Multi-level network resiliency

Your network is assured high availability and redundancy with 1:1 failover. Distributed WiNG 5 architecture increases wireless network capacity to eliminate VoIP latency problems and streaming video jitter. Site survivability through access point failure, wired switch failure, wireless controller failure and WAN outage provides a compelling disaster recovery network
Physical Characteristics
Weight
Without packaging: 24 kg (55 lbs) With packaging: 29 kg (65 lbs
Weight
Server appliance dimensions: 89 mm x 419 mm x 546 mm 3.5 in. x 16.5 in. x 21.5 in. Sliding rail kit: 660 mm (26 in.) With packaging: 254 mm x 572 mm x 737 mm 10 in. x 22.5 in. x 29 in.
Power Characteristics
AC input voltage
Full range: 100 to 240 VAC
Input frequency
50 to 60 Hz
Max AC input current
Steady-state current: 2A Nominal, 8A max. at 115V 1A Nominal, 4A max. at 230V Inrush current (at 25°C/77°F ambient cold start for each power unit): 60A max. at 115V 100A max. at 230V"
System Characteristics
CPU
Intel® 2.33GHz Xeon® 5140 Dual-Core Processor 4 MB L2 cache and 1333 MHz FSB
Drive bay
Slim Line DVD/CD-ROM
Memory
8 GB RAM Error Correcting Code Fully Buffered DDR
User Environment
Operating temperature
0°C to 40°C (32°F to 104°F) with maximumrate of change not to exceed 10°C (50°F) per hour
Storage humidity
90% non-condensing at 35°C (95°F)
Storage temperature
-20°C to 70°C (-4°F to 158°F)